Daily Checklist Template
Choose a free printable checklist template for your daily routines, download or print it out in a PDF format. Enjoy your everyday activities and stay organized!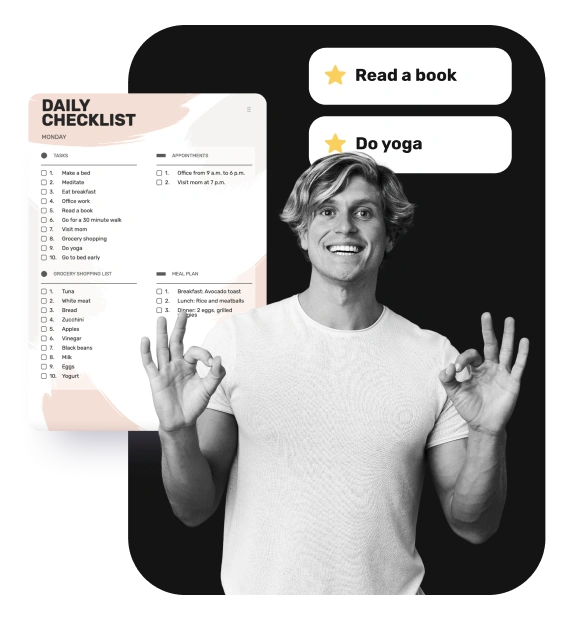 Get your blank daily checklist template
Get a look at our blank checklist templates.
To-Do List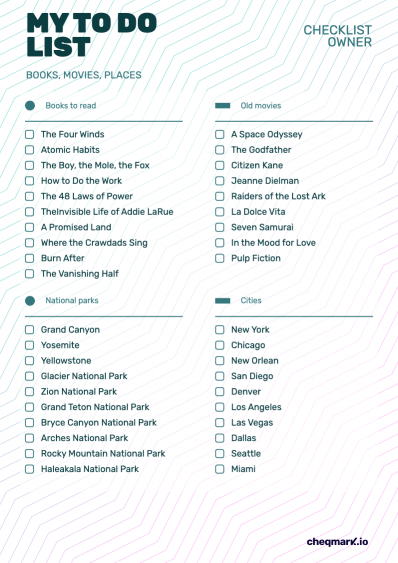 Daily Checklist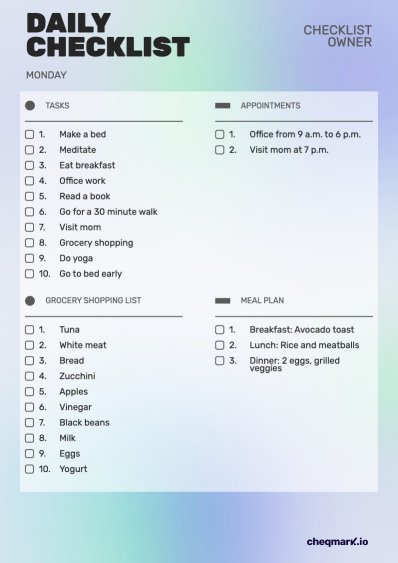 Monthly Checklist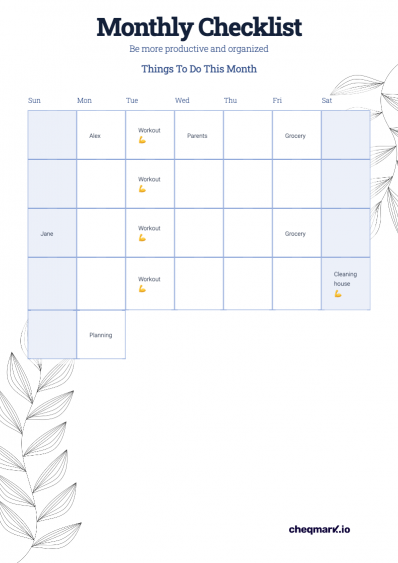 What Is a Daily Checklist?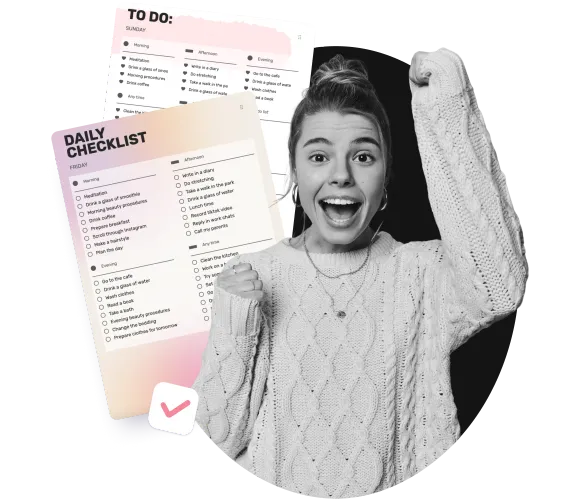 The Importance of a Daily Checklist
In this golden age of productiveness, a daily checklist is a must. Having a daily checklist template is a great and simple way to keep track of your tasks, activities, or routines you need to do during the day. Using such a type of checklist can help you stay productive and focused on what really matters to you. You can create a blank daily checklist template or choose one of the pre-made to-do lists from our gallery.
Why Does a Daily Checklist Matter?
Completing daily to-do's, exercising, shopping groceries, doing household chores, keeping self-care routines, or daily challenges. The list is endless, and that's why following a daily checklist is so important in order not to get side-tracked. If you're the kind of person who always forgets everything, an editable daily checklist template comes in place to help you organize your life. With Cheqmark, you will stay on top of all your daily lists and make the most of each day. Moreover, a printable daily checklist template version is even much useful and easier to use!
Create your checklist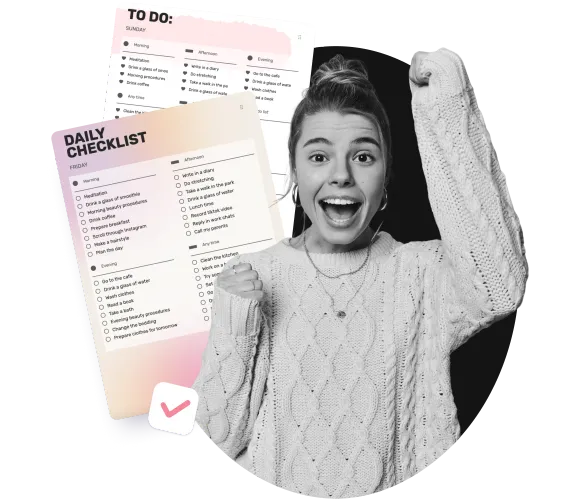 Why Have a Daily Checklist Template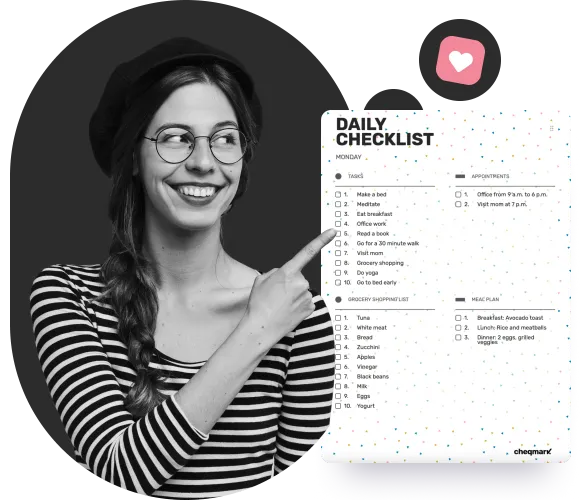 By getting things done, we can move closer to our goals and feel a sense of accomplishment in life. But how to achieve it? Having a clear daily to-do list is an effective way to manage your time wisely and complete all the things you need to during each day.
So a daily checklist template can be a powerful tool for being organized, fulfilled, and satisfied. Whether you want to complete daily things, learn new skills, or move towards a big goal, a daily routine checklist template will get you covered. By having a printable daily to do list template you can boost your personal productivity and feel more in control of your life!
Create your checklist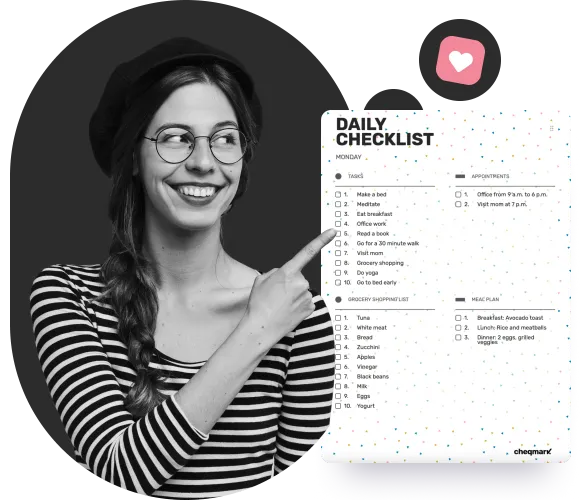 How to Make a Daily Bullet Journal?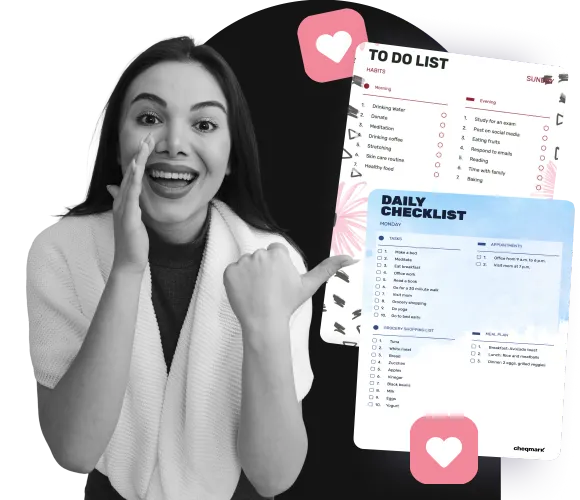 With a bullet journal daily template, you can easily track the progress of your to-do's. Thanks to its intuitive and fun system of symbols and categories you can just mark off your completed activities and move towards a specific goal that is important to you. Whether you want to track exercises, hydration, mood, or anything else, a printable daily bullet journal template is just what you need.
The beautiful and aesthetic design of a daily routine checklist template is what makes it even more pleasant to use. Choose the template you like or customize it with your style, and start tracking your progress. With bullet journaling, you will be able to adopt the habits, accomplish daily challenges, and improve your productivity.
Create your checklist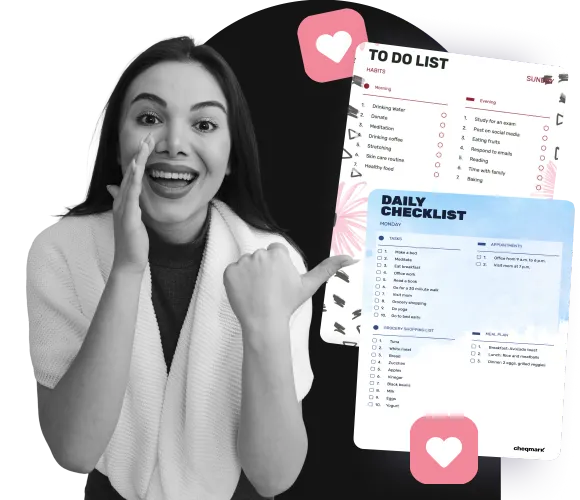 What our users say
Check out what our users think about the product.

Julia David
You can create any checklist u want with help of Cheqmark. All checklists are printable, fancy design, and generally, Cheqmark made my life more organised.

Vasyl Holiney
Cheqmark helps me to organize my life - from a shopping list to yearly plans. Really excited about using your service!

Monta Vītola
Cheqmark functionality is superb, and I can quickly create my checklists and prioritize what to do during the month. It is very simple but very easy to use. I love the design.
FAQ
What is a daily checklist?
What should be on a daily checklist?
How do I create a daily task list?
How do you categorize daily tasks?
What are the examples of daily tasks?
What is the best way to organize daily tasks?
Read our blog
Learn more about daily planning and how to stay organized with checklists.