Mood Tracker Template for Effective Use
Our mood tracker template is a customizable, printable template designed to help individuals track and manage their moods, and promote self-awareness and wellness.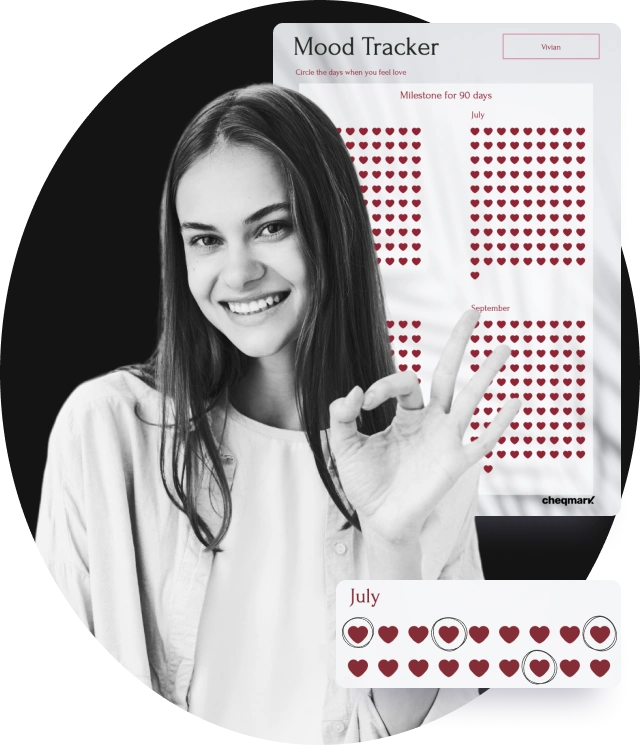 Create your mood tracker template
Get a look at our blank mood tracker templates.
31 Days of Happiness Challenge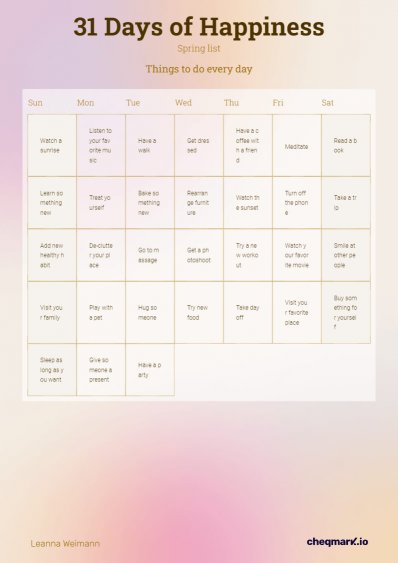 Mood Tracker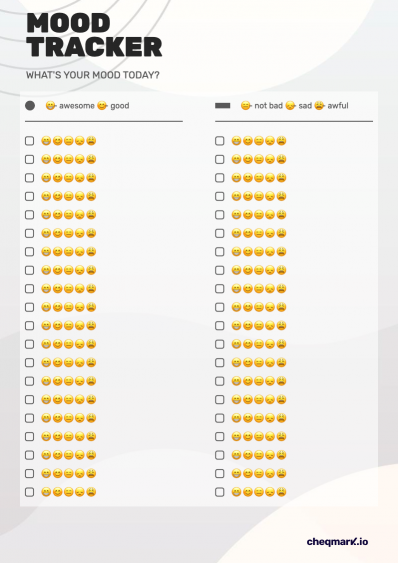 Mood Tracker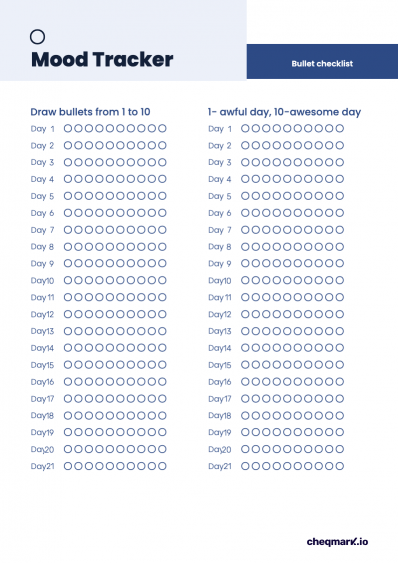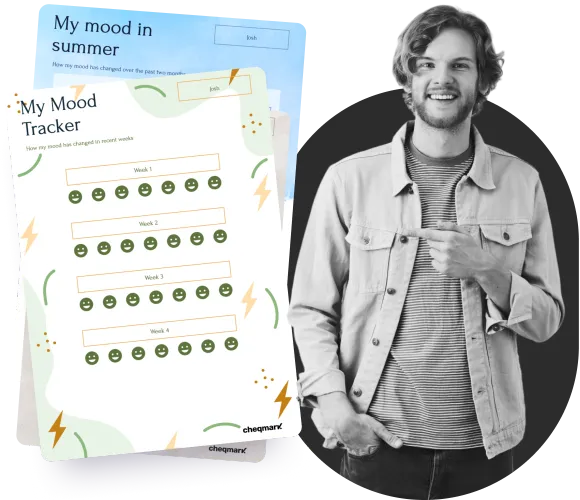 What is a Mood Tracker?
People use mood trackers to monitor their emotions and moods day by day, week by week, month by month. With a mood tracker, you can identify patterns and triggers that affect your emotional state and can help manage mental health and well-being. By tracking your mood over time, over a month or a year, you can see the number of days you felt good, bad, overwhelmed, stressed, happy, calm. Recent research has shown that by learning emotions, people feel more in control of their mood, make better decisions in order to live a happier life, and become more confident and positive in their emotional well-being. If you make mood tracking a part of your life, you will become more mindful and self-aware. Are you ready to give it a try?
How to Create a Mood Tracker
What's great about the mood tracker template, is that you can choose any format you like. Perhaps, you prefer to draw a mood chart in your notebook, but we have the best way how to create a mood tracker based on our templates. First, decide what type of template works best for you such as a daily mood tracker, weekly mood tracker, monthly mood tracker, or yearly mood tracker. Then, think of how you will track your negative, neutral, positive emotions or some which could be a simple emoji, letter size and color, stickers, or anything else. Don't forget to leave space for notes and remember that you can put a printable mood tracker in a visible place, at your desk or wall, to have it as a reminder. Once you have everything set up, get ready to understand yourself better!
Create your mood tracker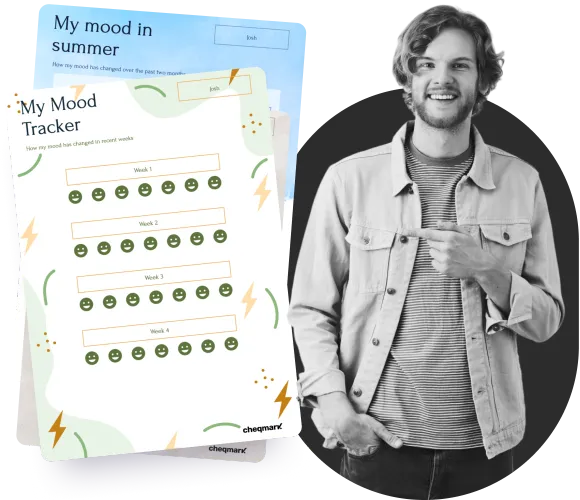 Basic Daily Mood Tracker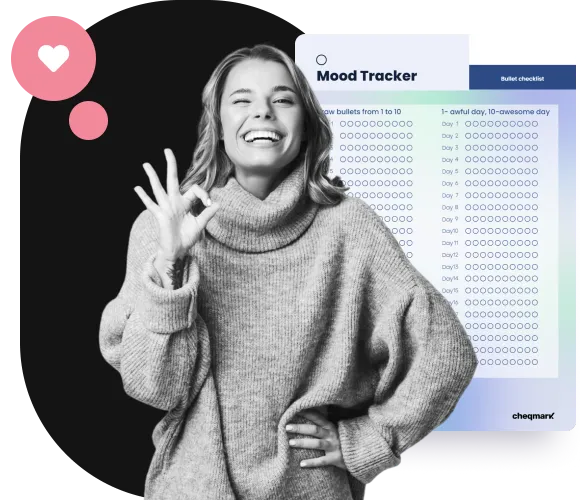 Mood tracking is important as it helps identify patterns and mood changes, increases self-awareness, and helps to gain positive habits. By using a mood tracker printable and tracking your mood regularly, you can gain insights about your emotional state, and mental health, recognize emotional triggers or strong emotions, and take steps to manage your well-being. A basic daily mood tracker template can be created by recording your mood rating at the end of each day. Use Cheqmark mood tracker printables to sow the seeds of mood tracking and use this information to make positive changes to your lifestyle. Our mood tracker examples are intended to be an inspirational guide to give you some ideas of how it works. However, mood tracking is no substitute for quality mental healthcare so seek professional help if necessary.
Create your mood tracker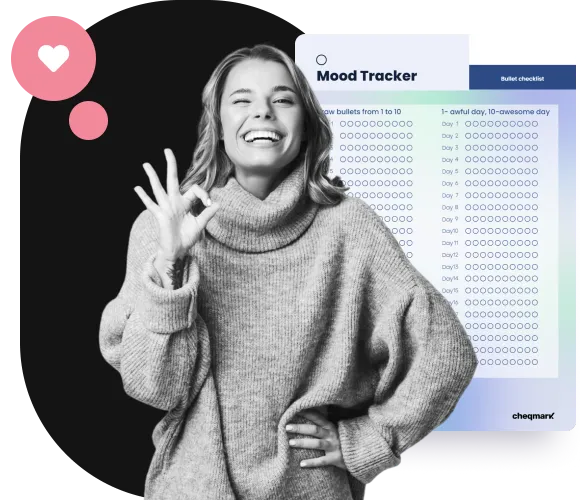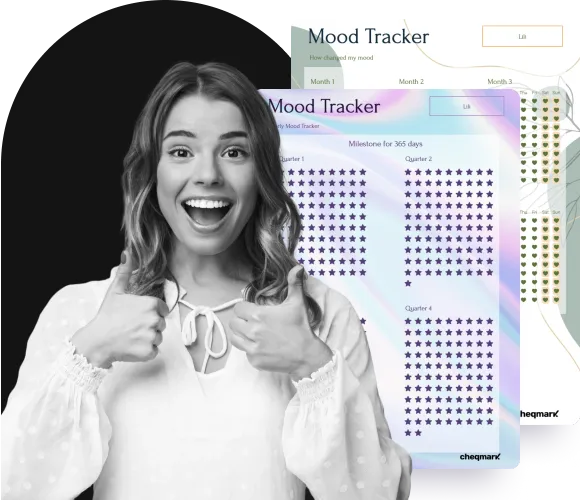 Weekly Mood Tracker Template
Following a mood tracker template on a weekly basis brings a lot of benefits. As such factors as sleep, exercise, or stress levels influence us, the weekly mood tracker template will help find out patterns, thoughts, or habits that can point out certain links between lifestyle and mood changes. By tracking mood on a weekly basis, you can learn about factors that could impact your emotions and how you're feeling throughout the week. For example, if you feel angry, anxious, apathetic, peaceful, relaxed, or sensitive during the week, you can set a reminder every three hours and write down what you are doing at that moment and how you feel to your mood tracker printable. With a weekly tracker which you can design by yourself, we hope you'll be able to define the things that affect your state.
Mood Tracker Monthly Template
If you're looking for a monthly mood tracker to keep track of your emotions, moods, and feelings throughout the month, have a look at our cute ready-to-print templates. Just print a monthly tracker in a PDF format and put in a visible place and start noticing patterns in your life, connect your emotions with the month's events, and take steps to manage your mental health more effectively. With a 31 or 30-day mood tracker, you can track your mood and habits for a whole month which can be a super helpful way to see how you're feeling and what you're doing. Keeping track of your mood doesn't have to be complicated so just a bullet journal mood tracker might be what you need to understand what causes your mood to shift. Give it a try and see how it helps understand yourself better!
Yearly Mood Tracker Template
As caring about mental and physical health over the course of each year is super important, it all starts with keeping an eye on how you're feeling every day - so a yearly mood tracker template will help you see trends over time. You can make your own yearly mood tracker template using a spreadsheet or bullet journal, or choose a ready-to-use template that you can customize, add designs you like, and print it out. Either way, using an annual mood tracker is a great way to look after yourself and feel good over the year.
Create your mood tracker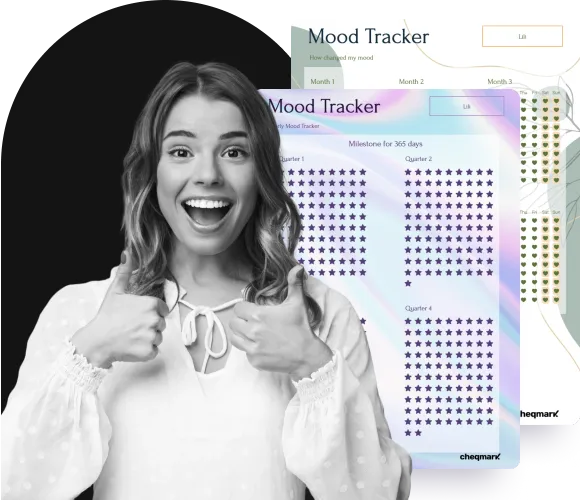 Coloring Mood Tracker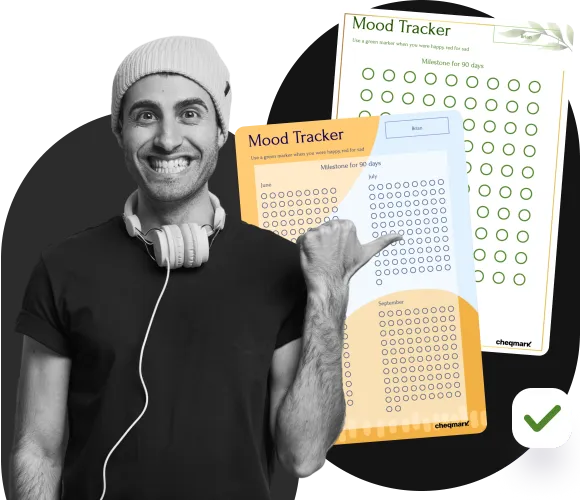 Looking for more creative ways to track your mood? A coloring mood tracker is an uplifting and creative way to monitor mood and even unwind after a stressful day at work. Some studies showed that coloring might have therapeutic benefits and help to distress. Though there still isn't a lot of research, it can help reduce stress, boost your mood, and relax you. So how it all works? Each day, week, or month, the person colors in the section or shape that represents their current mood. Each color depends on the meaning associated with the current mood. For example, green may represent a good mood, while red may signal a bad mood. With a calming effect behind it, a mood tracker coloring template can become a useful tool for managing emotions.
Create your mood tracker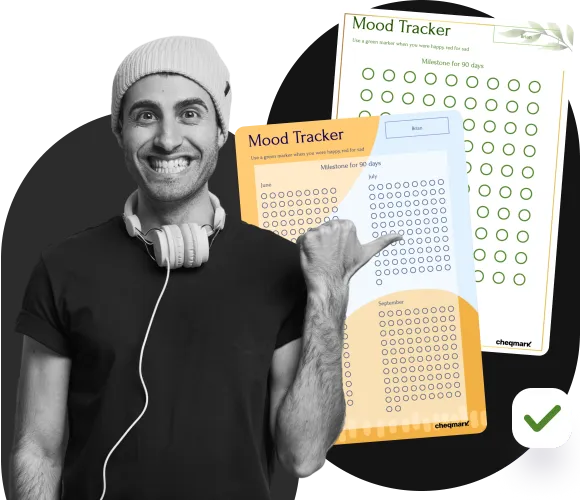 Mood Tracker Templates for Kids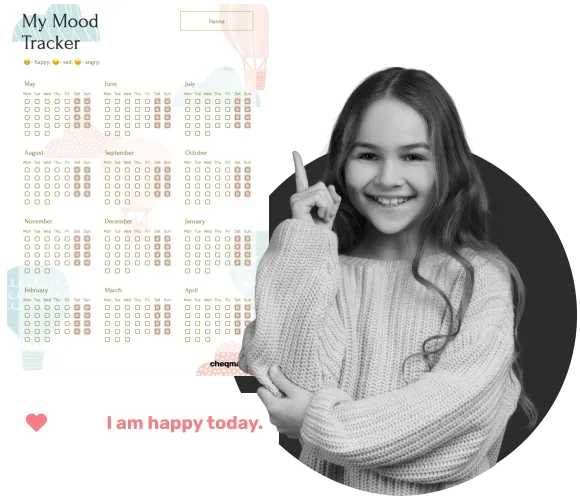 Despite that it's totally normal for kids to feel various emotions from happiness to anger, sometimes they struggle to find the right words to describe how they're feeling. That's where mood tracker templates for kids come in handy. Such templates are designed to help children develop self-awareness, recognize and accept their emotions, and learn how to manage them in a healthy way. For instance, it's much more fun for children to use happy, sad, or angry faces to express different states and moods. What is more important, using a mood tracker printable will benefit not just kids, but also their parents, caregivers, or even teachers. By tracking a child's emotions, they can see the emotional state of a child and provide the support they really need.
Create your mood tracker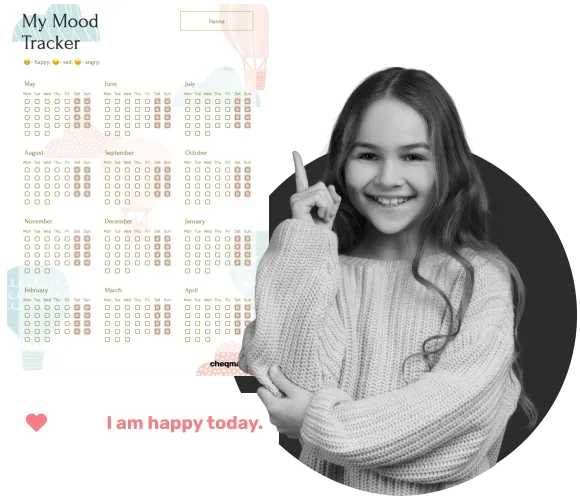 Cute Mood Tracker Printable Templates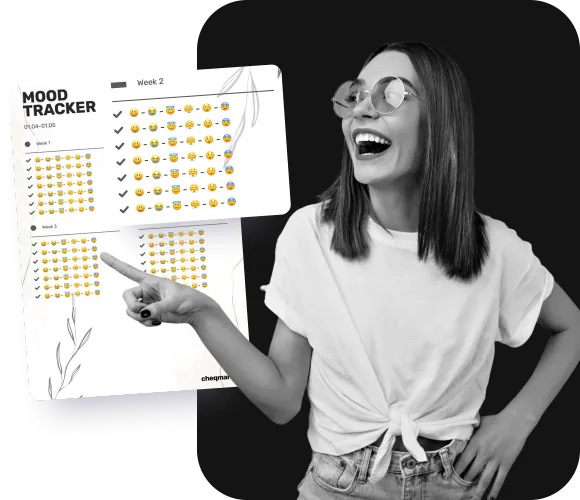 Not only is a monthly tracker, mood tracker, or habit tracker a good picture of your mood changes and behaviors, but they also look awesome! Our super cute mood tracker printable is so beautiful and to the point. If printed out, it allows you to color, or write in it to highlight each day's mood. Check out our amazing mood tracker examples if you just want to create something quick and ready to use.
Create your mood tracker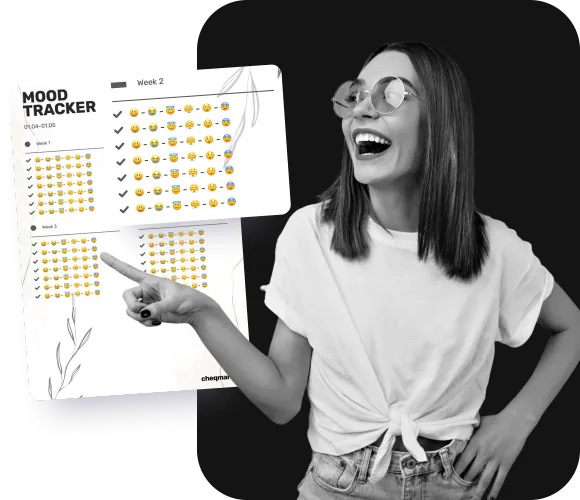 What our users say
Check out what our users think about the product.

Julia David
You can create any checklist u want with help of Cheqmark. All checklists are printable, fancy design, and generally, Cheqmark made my life more organised.

Vasyl Holiney
Cheqmark helps me to organize my life - from a shopping list to yearly plans. Really excited about using your service!

Monta Vītola
Cheqmark functionality is superb, and I can quickly create my checklists and prioritize what to do during the month. It is very simple but very easy to use. I love the design.
FAQ
What moods should I put on my mood tracker?
How do I make a mood tracker?
How can I track my mood daily?
Read our blog
Learn more about mood tracking and how to stay organized with checklists.