Gratitude Journal Template
Our gratitude journal template is a customizable, printable template designed to help individuals to start their own gratitude journal and promote positive thinking.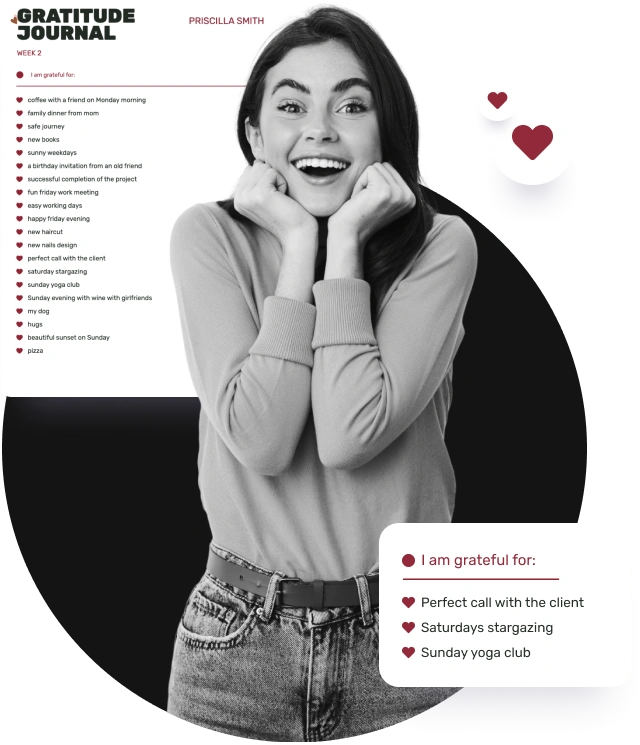 Create your gratitude journal template
Get a look at our blank gratitude journal templates.
Gratitude Journal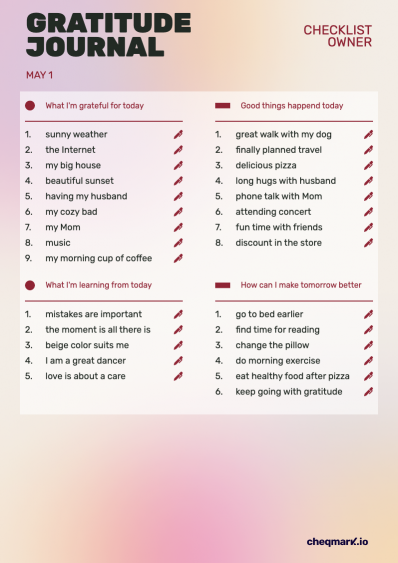 A Month of Gratitude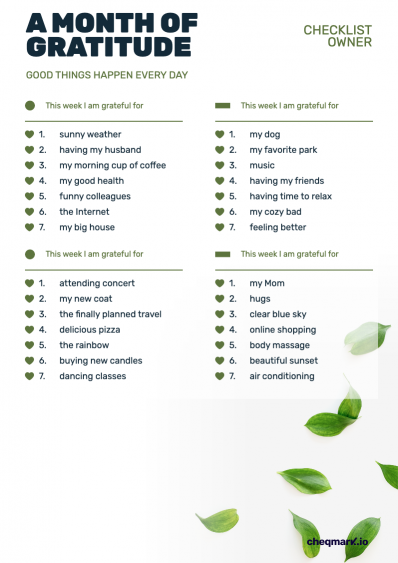 Fortnight Gratitude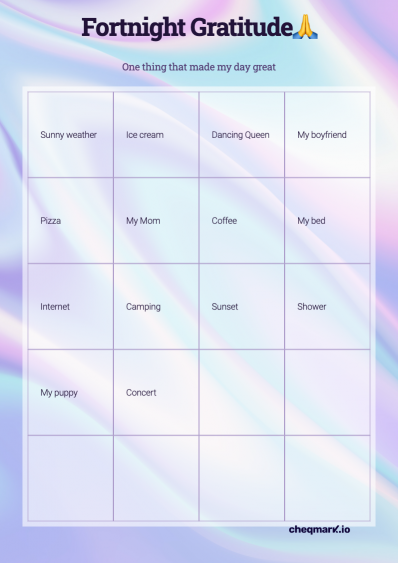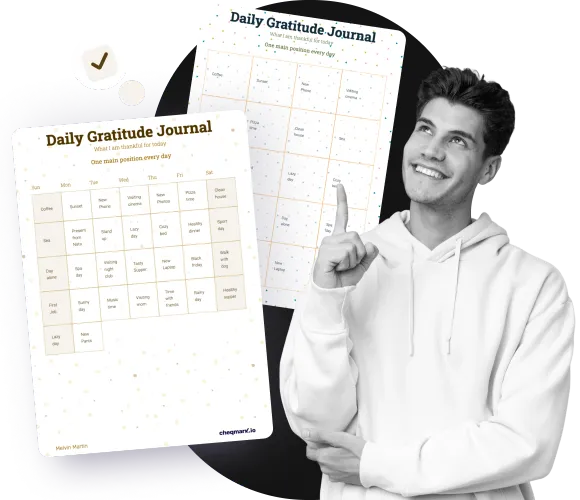 What is a Gratitude Journal?
We all can learn to appreciate and be thankful for the good things in life. It's quite simple - if you teach yourself to have a grateful attitude, you'll feel better about life. And, a perfect way to do so is by writing a gratitude journal, where you put down all the good things happening around you and with you. According to the definition, a gratitude journal is a diary of things for which a person is grateful. You can ask yourself what you are grateful for, why you are grateful for this, and why this good thing happened, and put at least one to three blessings every day, or think of a positive emotion or a favorite moment of the day. Reflecting on those things in the gratitude journal can make you feel happier and more relaxed. Lots of studies have shown that if you try to appreciate what you have and count your blessings, you'll be happier and less likely to feel down. So what are the benefits of having a gratitude journal template in your daily life?
Benefits of a Gratitude Journal
Not only does the practice of gratitude means appreciating great things that happen to us, but also it means noticing the smaller blessings that we often overlook or don't give much attention to. Even the smallest and simplest things, like having a walk from work, tasting delicious food, smiling at a stranger, spending time in nature, having a chat with a friend, and enjoying a sunny day can be something that we should be grateful for. If you keep a daily gratitude habit, then you can get a lot out of it such as improve life satisfaction, increase happiness, reduce stress level and anxiety, deeper relationships with loved ones, get better sleep, and increase your resilience. If you focus on the positive aspects of everyday life and express gratitude, you can easily shift your perspective away from negativity. Overall, the idea of cultivating gratitude might sound trivial, but researches show that it can bring real benefits. "People who are grateful get less triggered or angry, they have more positive feelings, and in some ways, that attracts other people," Ilene Rosenstein said. "When you feel these positive emotions and relish good experiences with others, there's a bonding in that, and it tends to build stronger relationships."
Create your template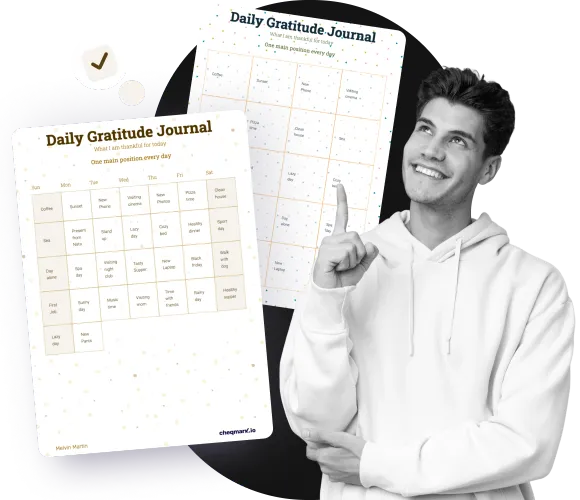 Gratitude Journal Templates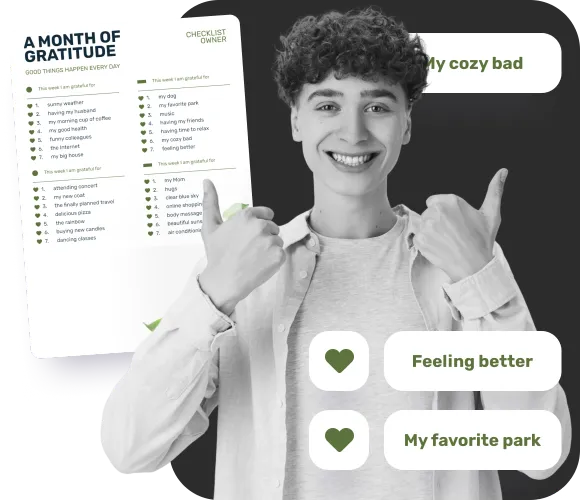 So now we know that an attitude of gratitude for even little things in life led to better health, deeper relationships, let us experience positive emotions, and much more. If you are about to start a habit of gratitude journaling, we've got you covered! There are so many different gratitude journal templates such as a daily gratitude journal template or a weekly gratitude journal template, gratitude lists and letters, a bullet journal, or just a digital tool, all of them available in a printable format or a PDF! Want to start daily gratitude practice? Decide how much time you want to dedicate to it each day or week. If you're short on time, a mini gratitude journal template with just one gratitude statement per day will be great. Let's discover more information on different types of gratitude journal templates in the next section!
Create your template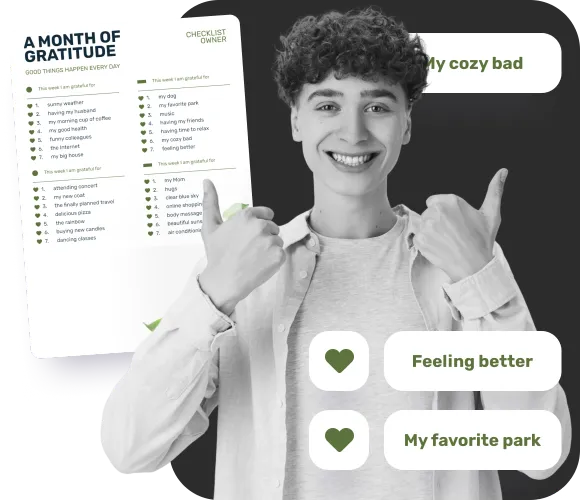 Printable Daily Gratitude Journal Template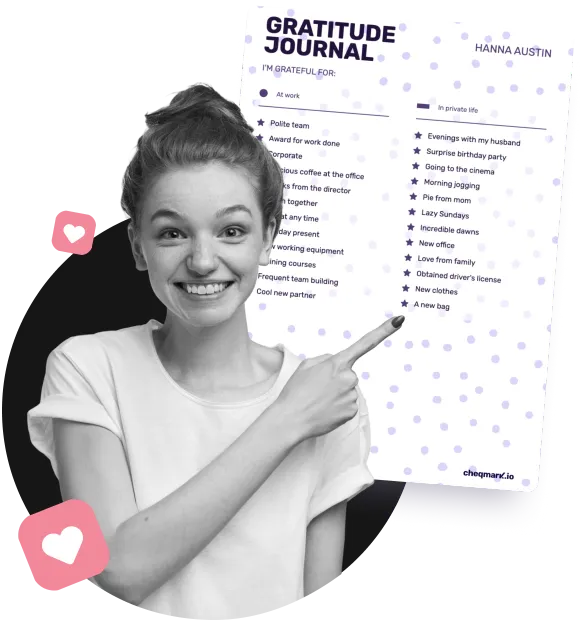 What if starting each day with positive affirmations changes the whole sense of context? Studies show that cultivating a daily gratitude practice can help you stay organized, more relaxed, and happier. That's where a printable daily gratitude journal template can be helpful. Though there are many tools to make a gratitude bullet journal template, using a ready-to-use template and printing it out save time and allow you to focus on your gratitude journaling instead of crafting it. But if you enjoy the process of designing your own template, get a look at our pre-made options.
Create your template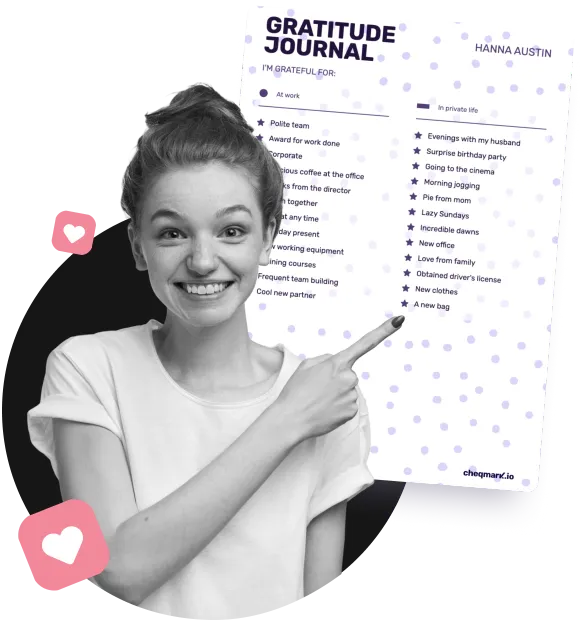 Weekly Gratitude Journal Template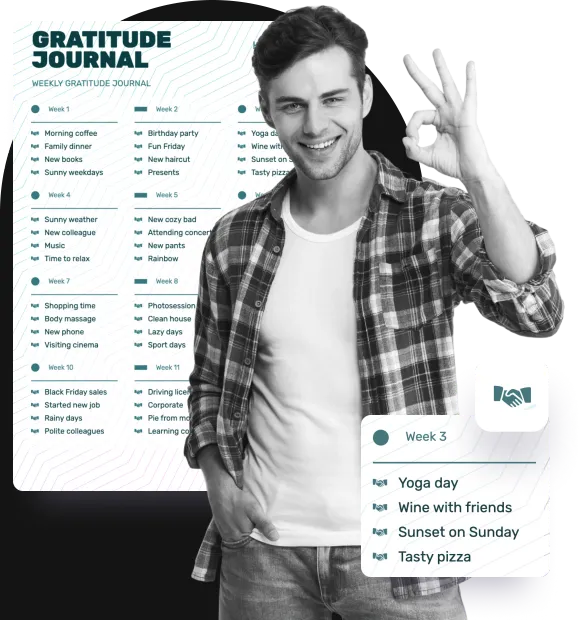 Writing in a weekly gratitude journal template can help your brain grow and establish neuronal connections. As some researches show, "When you write, all parts of your brain are actively engaged." Our brain is so adaptable that it can change and grow as you write. Regular habit of gratitude writing practice helps your brain grow, make new connections and let to more creative thinking. Using a free printable gratitude journal template on a weekly basis provides a structured way to reflect on positive aspects of how your previous week went and of the good things that happened.
Create your template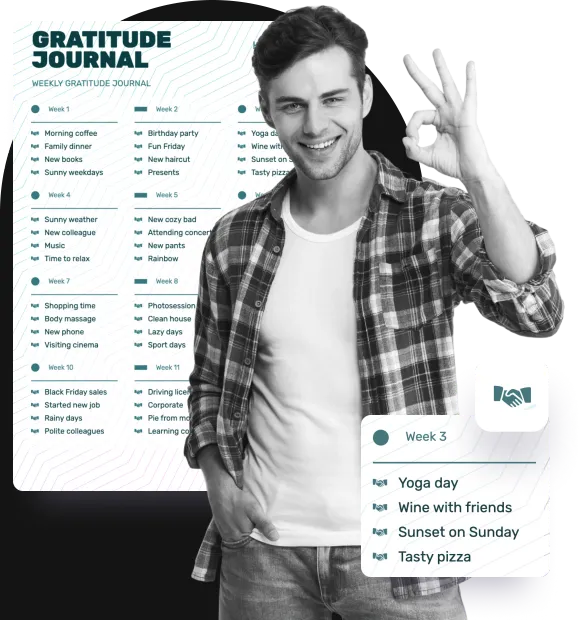 Gratitude Journal Template for Students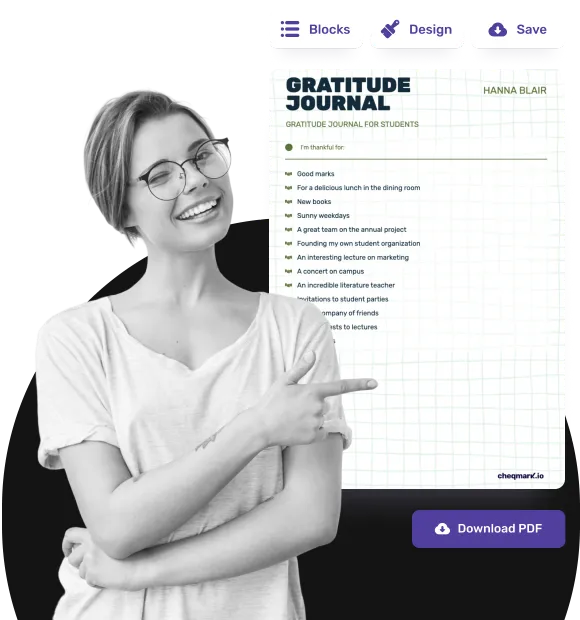 Many students, at school or college, face a lot of pressures, worries, and anxieties. The survey from Pewresearch found that 70 percent of teens say anxiety and depression is a "major problem" among their peers. They can constantly feel worried, are not able to concentrate, often feel nervous or on edge, have an all-or-nothing mindset, may conflict with people, or just worry about the future a lot. The bad experience they struggle with may be challenging so rather than simply trying to "look on the bright side," it's much more better to use calming practices. One of the best ways to tackle the topic comes with a good gratitude journal template for students which can help plant the seeds for gratefulness and help them experience positive changes. When you embrace the benefits of gratitude journaling, you develop a growth mindset. There are lots of gratitude journal templates, planners, and templates for daily affirmations which along with a cute design can be printed or downloaded. If you're looking for a free printable gratitude journal template, check out our gallery!
Create your template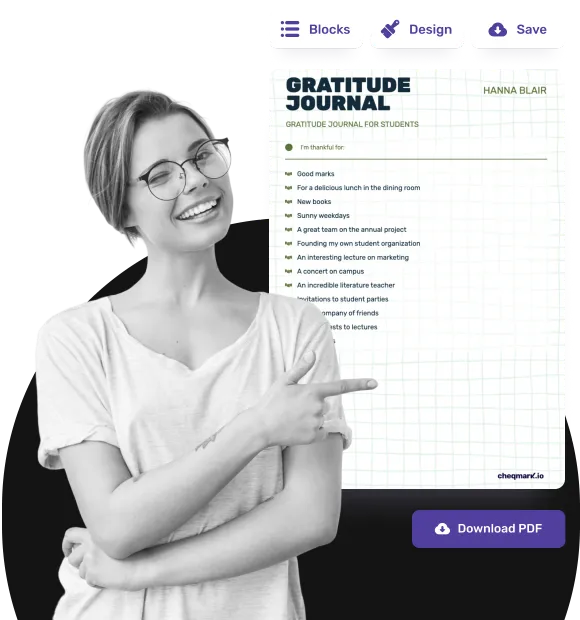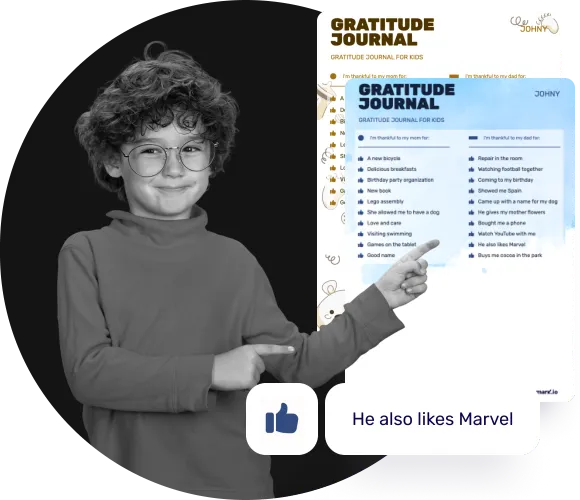 Gratitude Journal Template for Kids
If you're looking to create a gratitude journal template for kids, consider making it more fun and interesting for them. Whether they're 6 or 16 years old, the effects of gratitude journaling are underestimated and lead to a long-term appreciation for the joys of life. If the daily gratitude practice is challenging for kids, a little bit of creativity such as writing prompts can help. Our team created a free printable gratitude journal template so you can start using it with your kid today!
Mini Gratitude Journal Template
Looking for simple yet creative ways to promote a daily routine of gratitude journaling? Having a mini gratitude journal template is one of the practices that really have broad benefits and it takes very little time. Set a reminder, create template designs you enjoy, and start just with one gratitude journal idea each day. We're always thinking of new templates to help you with an everyday habit of gratitude. Check out our editable gratitude journal templates to get started.
Create your template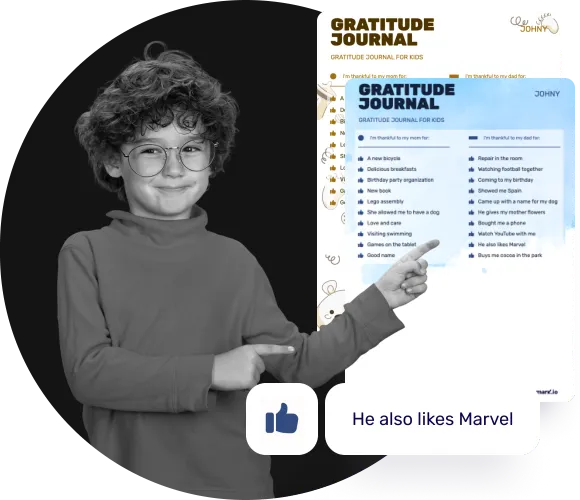 What our users say
Check out what our users think about the product.

Julia David
You can create any checklist u want with help of Cheqmark. All checklists are printable, fancy design, and generally, Cheqmark made my life more organised.

Vasyl Holiney
Cheqmark helps me to organize my life - from a shopping list to yearly plans. Really excited about using your service!

Monta Vītola
Cheqmark functionality is superb, and I can quickly create my checklists and prioritize what to do during the month. It is very simple but very easy to use. I love the design.
FAQ
How to start a gratitude journal?
What are examples of gratitude?
Who needs a gratitude journal?
Does gratitude journal really work?
What is the difference between journal and gratitude journal?
Is keeping a gratitude journal a good or poor mental health tip?
Does gratitude journal work for depression?
Is Cheqmark good for creating printable daily gratitude journal template?
Read our blog
Learn more about a habit of having a printable daily gratitude journal template.