A list of things you need to do is one of the basic time management tools. It places all of your tasks in one spot. From there, you can order them by importance and focus on the most crucial ones first. One of the most significant reasons for using a to-do list is that it will keep you organized. On top of that, such a list can help you gain some healthy habits and stick to them. If this approach works so well with good habits, couldn't it be used for breaking the bad ones? Let's find out.
Why a not-to-do list is a good idea
As the name implies, a not-to-do list is a list of activities and behaviors you should avoid. Your to-do list can easily grow out of control, particularly if you have trouble saying no to requests for help or delegating and outsourcing work. This may also happen if you're not good at task management and struggle to distinguish between things that are urgent & high impact vs. non-urgent & low impact. In addition, some people are highly prone to distractions and negative habits, so their to-do lists are constantly filled with unfinished tasks.
A not-to-do list should assist you in getting rid of low-value tasks and unhealthy habits so that you won't have to assess the benefits and drawbacks, debate whether or not to make an exception, feel guilty about declining requests, etc.
10 habits to break this year: choose yours & take one at a time
Here is an example of what a not-to-do list should look like. Make sure you don't make your list too cluttered because it'll be hard to pay regard to.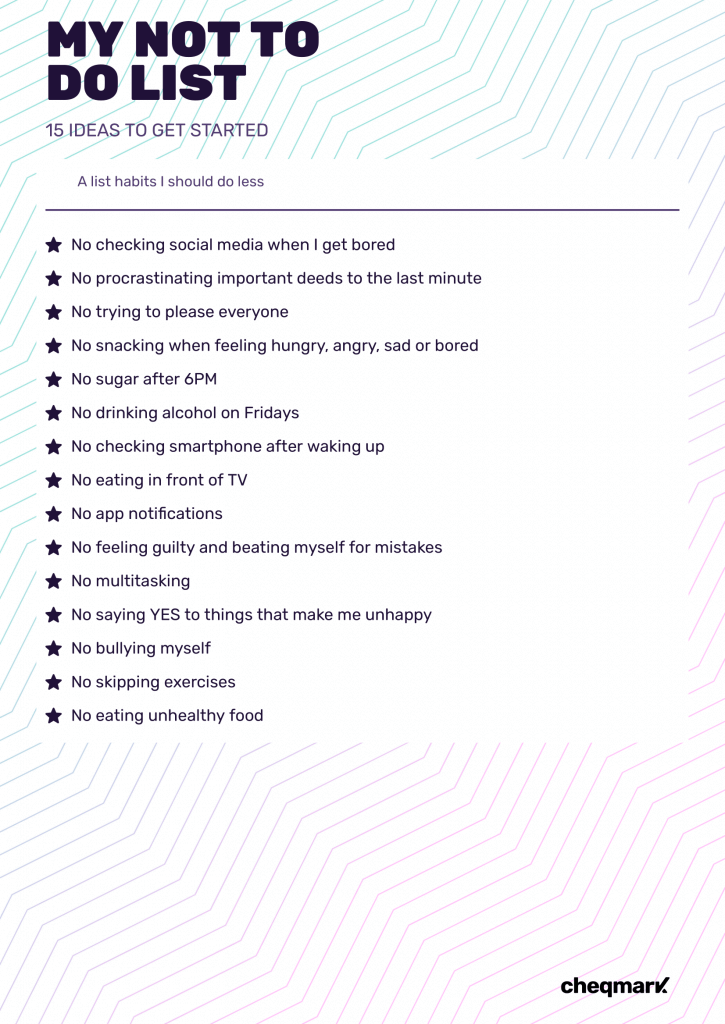 No checking social media when getting bored
When we're bored, we want to do something that doesn't require much thought but still makes us feel good. Using social media is easy. It makes us feel like we're keeping up with what's happening in the world. We can also enjoy likes and reactions from other people. However, social media eats too much time. Furthermore, chronic social network users are more likely to report mental health issues, such as anxiety and depression. To combat this bad habit, we need to choose a new action. You might think that studying or working out is a good idea, but keep in mind that these actions require much effort. So it definitely has to be something "lighter." For example, you can find blogs you love to read and place links to them in the bookmark tab. Or maybe you can start your own blog. Taking a short walk is also a good choice. The main idea: this should be something you really enjoy.
No procrastinating important deeds
You may be familiar with the feeling of knowing you should complete some work but being unable to do it. As a result, you put off finishing the task until the very last moment, when tension and pressure force you to do so; or, in the worst-case scenario, the task is never completed at all. When you procrastinate too much, you may start to believe that you're a loser, and your self-perception will gradually change to reflect this. Your productivity will suffer, as well as your pocket. So how do you deal with it? Sometimes, it's enough just to force yourself to do something. Sometimes, you may need to start with easier tasks until your energy levels recover and only then take care of the hard tasks. Keep in mind that procrastination may be caused by psychological issues. So perhaps you need to overcome the fear of failure or fear of success first.
No pleasing everyone
Quit trying to please everyone and learn to decline requests politely without feeling guilty. You might say, "I'm sorry I can't right now, but I'll let you know when and if I can." This tactic is courteous and, by changing the dynamic, puts you in a position of power. Write this down in your not-to-do list.
No snacks when feeling hungry, angry, sad, etc.
Learn to eat only when you're hungry. Ideally, a full portion of meals, not a snack. Also, if you overeat or eat too often, consider what caused the temptation to do so each time it occurs. If you go back, you'll typically discover a distressing incident that started the cycle of emotional eating. In your food and mood journal, note everything that happened, including what you ate (or wanted to eat), what disturbed you, how you felt prior to eating, how you felt throughout your meal, and how you felt afterward. You'll eventually see a pattern. Then find other ways to feed your feelings. For example, if you're bored, read a good book.
No sugar after 6 pm
Consuming too many sweetened meals and drinks can result in weight gain, blood sugar issues, and a higher chance of developing heart disease. Eat more fresh fruits instead.
No alcohol on Fridays
People drink alcohol for various reasons, such as relaxation, making friends, escaping problems, etc. How about sober methods that help connect and unwind? You can try meditation, go camping, become a volunteer or mentor, get on a bike, and participate in community cleanup.
No smartphones after waking up
You're overwhelmed with incoming messages, emails, to-dos, and other distractions when you first get up and check your phone. This frequently makes you feel stressed and anxious. External influences start vying for your attention right away, leaving you with no time or space to peacefully begin your day. Try to do something that will allow your thoughts to unwind: yoga, breakfast with friends and family, walking with your dog, etc.
No eating in front of the TV
Long periods of time spent watching TV can lower your metabolic rate or reduce your body's capacity to burn calories. This could result in fat building up around your waist, raising your risk of obesity. You can also overeat easily. Therefore, eat your meals first, go for a walk, and only then watch your favorite show.
No skipping exercises
Regular exercising keeps you healthy, physically and mentally. So be sure to do it at least two times a week. Here're the other 50 healthy habits you need to try. 
No feeling guilty for mistakes
Everybody makes mistakes in life, from little oversights to bad choices with negative outcomes. It's OK to feel bad about these things, but holding onto that guilt for too long is unhealthy. Acknowledge what has happened, learn from the situation, and forgive yourself.
Final thoughts
Everyone seems to have a to-do list today, but how about a list of things not to do? With the help of such a list, you can break bad behaviors like starting your morning by checking your phone, eating in front of the TV, or feeling guilty for mistakes. In this guide, we provide you with examples of things to write in your not-to-do list and share the not-to-do list itself. Kick off your bad habits!
Maria is a content maven at Cheqmark and is a regular contributor to our blog and social media.