Many checklist-maker tools are available to try, and they can be adapted to almost any task. In this article, we share the best checklists to help you stay organized, motivated, and happy. And help you to find the answer "How to make a checklist for organizing my life?"
No matter how sad it sounds, keeping up with everything in today's hectic world is impossible. We may want to try yoga, read twenty books per year, buy a coffee table, eat healthier, lose five pounds, start saving money, learn to drive a car, change a career, have financial freedom, and much more. But we can't remember everything we have to do. And the more things we plan, the more distracted and disorganized we become. We procrastinate and can't find time for what we really need. As a result, we feel frustrated and resentful. Sound familiar?
Now, we want to introduce you to something that can help you get your life back – checklists.
Benefits of using checklists
There are many of them. We just name a few.
Checklists free up your brain
It's better to make a checklist rather than keep every detail in mind in a busy modern schedule. When you write down everything that comes to your mind regarding tasks and goals, you no longer have to waste so much energy trying to remember all the things and turn your head into a brain dump.
Checklists decrease your stress level
People feel stressed when they worry too much about their future. However, you feel more relaxed once you see what you need to do on your list.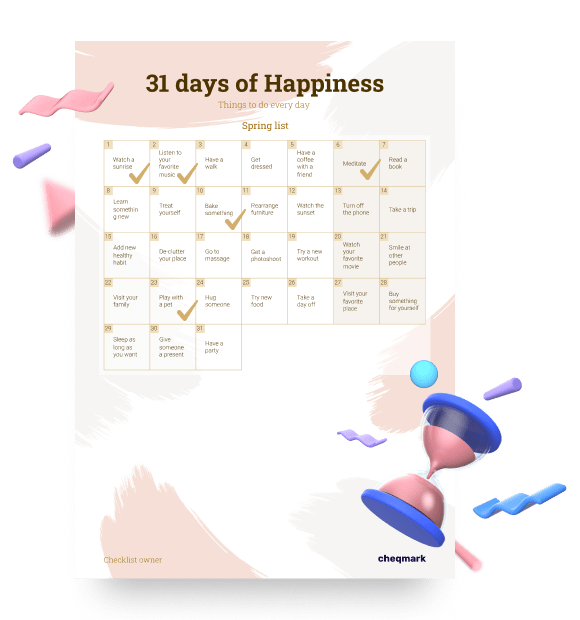 Checklists help you stay motivated
If you've ever tried checklists, you know how satisfying it is to check off boxes, cross out things you've completed, and feel like a professional organizer. You feel cheerful, fun, and ready to do even more when you understand that you've accomplished something.
Checklists help create habits
For instance, if you want to get in shape, you need to exercise at least every other day. That's why you make a list of exercises listed three or four times a week. Whether you buy a gym membership or do it at home doesn't matter. Then you check off each time you complete your workout.
Voila, you have concrete evidence that you're doing hard work.
The best way to make a checklist
Some people decide to keep their goals and tasks in a document on a computer. Others prefer an old, good plain paper planner and a pen. Indeed, both methods are acceptable. It's only important you can access your list wherever creativity strikes you to make your life organized.
But sometimes, doodling and decorating checklists make them work better for us. We won't encourage you to buy colorful pens, markers, stickers, and tons of glitter, because today, saving the planet should be among our top priorities. Instead, you can use a checklist tool to create lists and download them on your phone, tablet, or PC. But you can print your checklists if you don't like keeping everything on digital devices.
How to use checklist templates to organize your life
Creating a full-life organization checklist or a list of lists makes no sense. But you can create different checklists to avoid mess and complicated lists. For example, a daily to-do list, weekly to-do list, monthly to-do list, yearly resolutions, and habit trackers. Let's have a closer look at each type.
Plan your day
A daily to-do list will help organize your day-to-day life routine, relieving stress at the end of the day — type in everything that feels important to you—for example, meditation, reading a book in the evening, and other everyday life activities. You can also make room for appointments, a shopping list, and a meal plan in your daily list.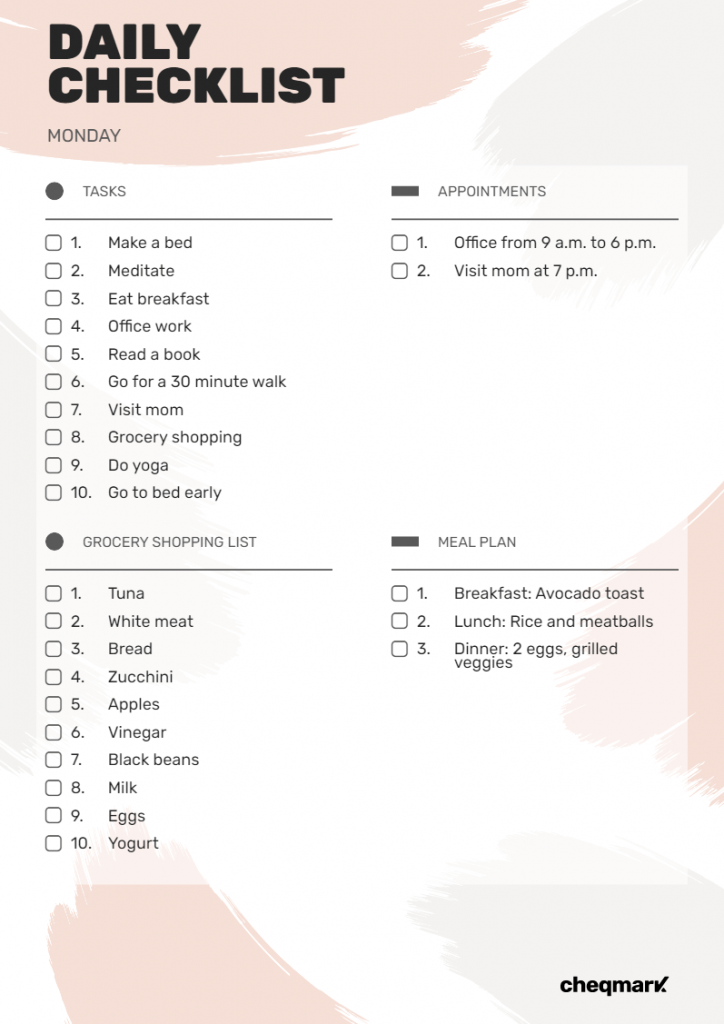 Plan your week
A productivity maven and a PR and marketing freelancer Saffron Sumner recommends, "You need a second brain. I have 2. One for immediate thoughts & notes which is categorised (on apple notes), and one centralised system on Trello. Everything I need to remember, everything I need to do is on my Trello board including work, admin, personal & plans. From this, each week, I find what is upcoming and create weekly to do lists. The weekly to-do lists are broken down into daily ones which I write out at the end of my day. These lists are split into personal and professional. It's the best way to remember everything and set out exactly what you need to do".
Try to plan your priorities throughout the week by creating a weekly to-do list. For example, if you want to practice yoga every day, create a separate task for Monday, Tuesday, Wednesday, etc., and check off the boxes when you've completed the task. All your weekly goals will be achieved. You can even plan your entertainment – a date, a rest, or a dinner at home.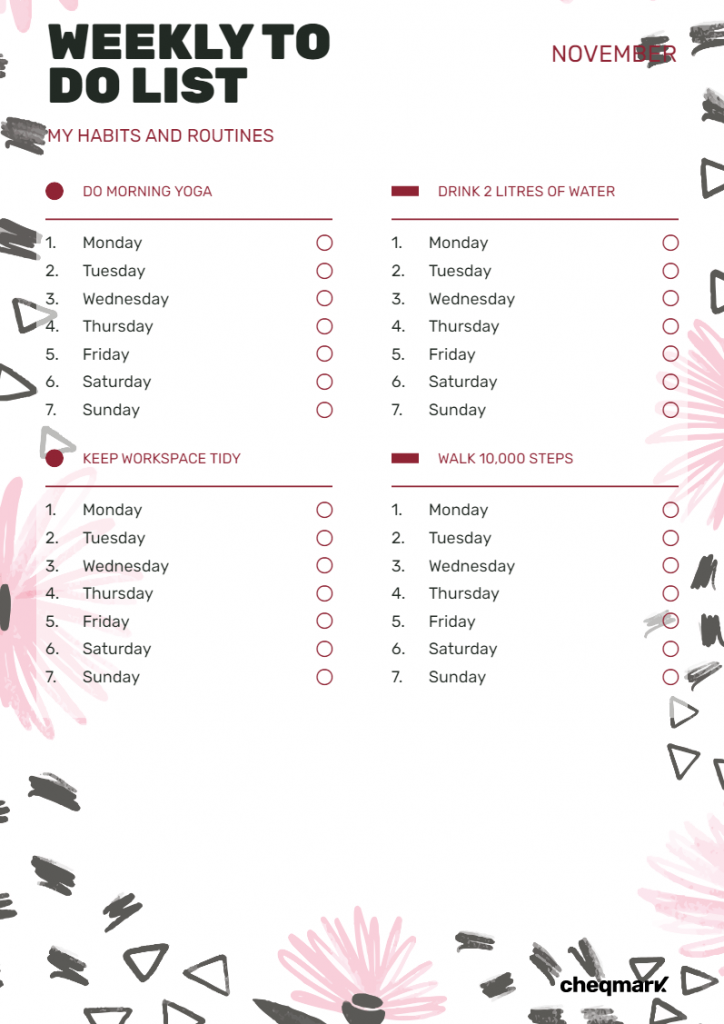 Plan your month
A monthly to-do list is an excellent way to stay organized and remember essential monthly goals. Start with brainstorming everything that you have to get done for the month. If nothing comes to your mind, include even simple tasks such as swapping out your contact lenses or organizing your phone photo library. If you, on the contrary, have too many things to do, separate your brainstorming list into two different categories: must-dos and nice to-do's. You can also add any upcoming birthdays or events for the whole family.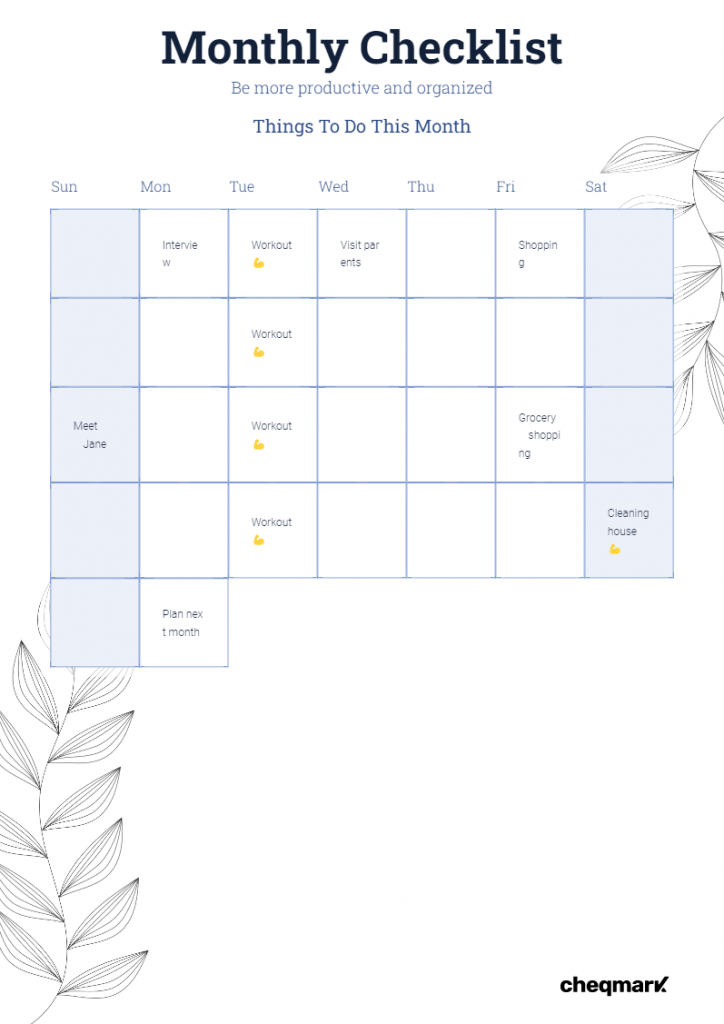 Plan your year
What about a list of things you can do to set yourself up for success during the next year? For example, you may want to lose five pounds, change a career, vacation in Paris, achieve a financial goal, get into a healthy lifestyle, eat more vegetables and fruits, break a bad habit, or take photography classes. See our New Year's Resolutions to Try for 2023 for inspiration and ideas.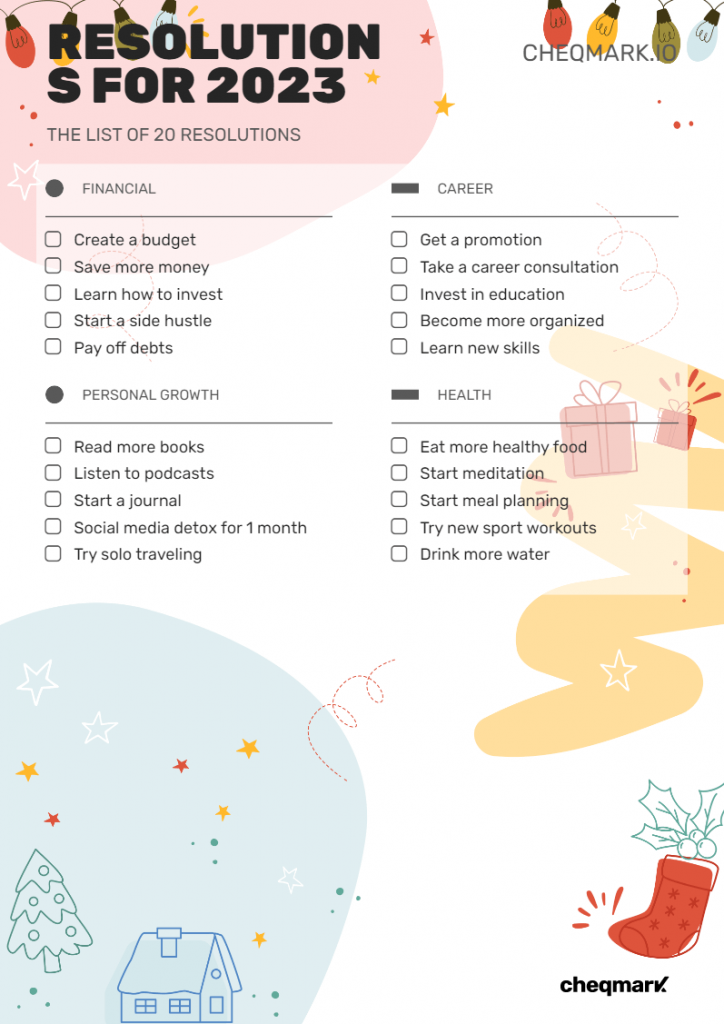 Track your habits
We usually struggle to start new activities or achieve goals. One of the reasons is issues with our planning skills. Try habit trackers to overview the success of your activities, hobbies, or habits. How do they work? For example, each day gets a tick if you exercise on Tuesday, Thursday, and Sunday. As time passes, the checklist becomes a record of your habit streak.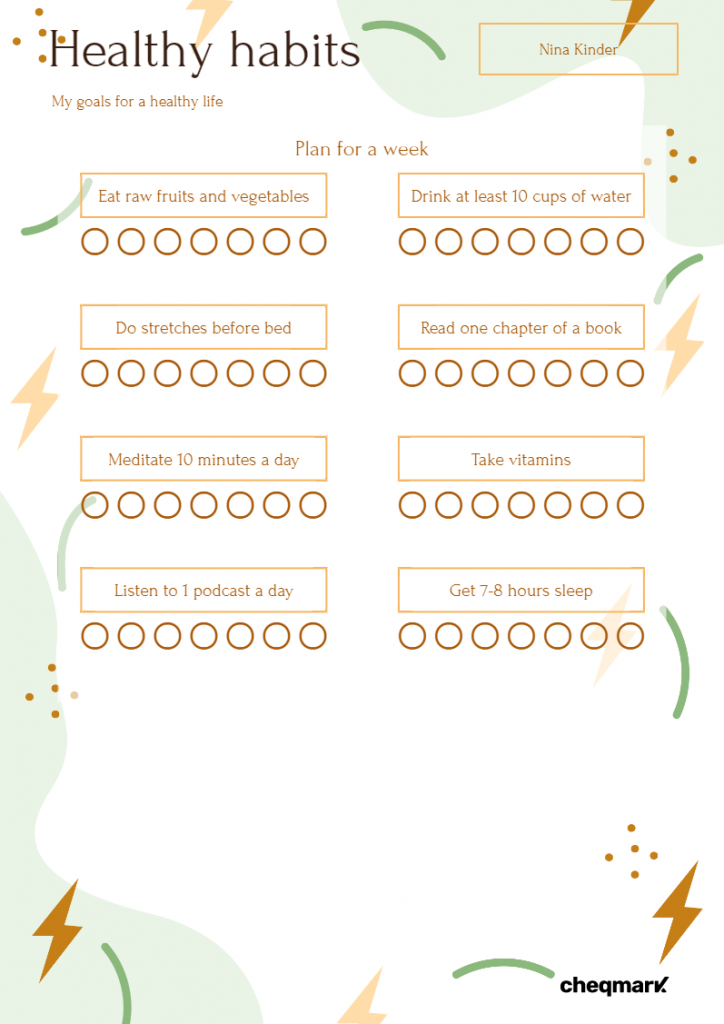 Bonus
You are free to create any favorite things list. Here are some ideas for lists you might want to make:
| | |
| --- | --- |
| Drink more water | Get a puppy |
| Plan for or pay bills for the month | Complete a marathon |
| Schedule a new haircut | Dance |
| Create a list of books to read | Routines lists: morning and evening routine |
| Clean out a fridge | Dream list |
| Work on one specific health goal | Meal planning |
| Walk every evening | Grocery shopping |
| Visit five new countries | Running list |
| Gift ideas list | Gratitude list |
| Arrange a date with your spouse | Summer bucket list |
| Visit your grandparents/parents | Vacation packing list |
| | |
Conclusion
If you want to be more organized and satisfied, we recommend using a checklist for life organization. They ensure you don't forget things you need to remember – see a doctor, change water filters, find a gift for a friend, exercise, buy products for a curry soup and a carrot cake, learn a new language, etc. And because checklists help us with all these tasks and goals, they create a feeling of competence and confidence.

Many checklist-maker tools are available to try, and they can be adapted to almost any task. You can work with daily, weekly, and monthly to-do lists, write New Year resolutions, and even track new habits and activities. In this article, we've shared the best checklists from our gallery that will help you stay organized, motivated, and happy. So go ahead and try them.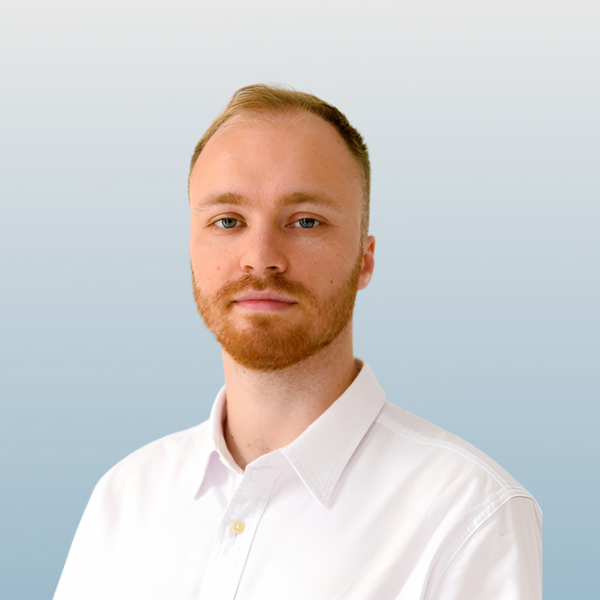 Michael is an experienced Chief Technology Officer (CTO) at Cheqmark.